Oscarsgalan 7 mars 2010, nomineringarna - AND THE WINNER/S IS/ARE?!

Actor in a Leading Role
Jeff Bridges in "Crazy Heart"
George Clooney in "Up in the Air"
Colin Firth in "A Single Man"
Morgan Freeman in "Invictus"
Jeremy Renner in "The Hurt Locker"
Actor in a Supporting Role
Matt Damon in "Invictus"
Woody Harrelson in "The Messenger"
Christopher Plummer in "The Last Station"
Stanley Tucci in "The Lovely Bones"
Christoph Waltz in "Inglourious Basterds"
Actress in a Leading Role
Sandra Bullock in "The Blind Side"
Helen Mirren in "The Last Station"
Carey Mulligan in "An Education"
Gabourey Sidibe in "Precious: Based on the Novel 'Push' by Sapphire"
Meryl Streep in "Julie & Julia"
Actress in a Supporting Role
Penélope Cruz in "Nine"
Vera Farmiga in "Up in the Air"
Maggie Gyllenhaal in "Crazy Heart"
Anna Kendrick in "Up in the Air"
Mo'Nique in "Precious: Based on the Novel 'Push' by Sapphire"
Animated Feature Film
"Coraline" Henry Selick
"Fantastic Mr. Fox" Wes Anderson
"The Princess and the Frog" John Musker and Ron Clements
"The Secret of Kells" Tomm Moore
"Up" Pete Docter
Art Direction
"Avatar" Art Direction: Rick Carter and Robert Stromberg; Set Decoration: Kim Sinclair
"The Imaginarium of Doctor Parnassus" Art Direction: Dave Warren and Anastasia Masaro; Set Decoration: Caroline Smith
"Nine" Art Direction: John Myhre; Set Decoration: Gordon Sim
"Sherlock Holmes" Art Direction: Sarah Greenwood; Set Decoration: Katie Spencer
"The Young Victoria" Art Direction: Patrice Vermette; Set Decoration: Maggie Gray
Cinematography
"Avatar" Mauro Fiore
"Harry Potter and the Half-Blood Prince" Bruno Delbonnel
"The Hurt Locker" Barry Ackroyd
"Inglourious Basterds" Robert Richardson
"The White Ribbon" Christian Berger
Costume Design
"Bright Star" Janet Patterson
"Coco before Chanel" Catherine Leterrier
"The Imaginarium of Doctor Parnassus" Monique Prudhomme
"Nine" Colleen Atwood
"The Young Victoria" Sandy Powell
Directing
"Avatar" James Cameron
"The Hurt Locker" Kathryn Bigelow
"Inglourious Basterds" Quentin Tarantino
"Precious: Based on the Novel 'Push' by Sapphire" Lee Daniels
"Up in the Air" Jason Reitman
Documentary (Feature)
"Burma VJ" Anders Østergaard and Lise Lense-Møller
"The Cove" Louie Psihoyos and Fisher Stevens
"Food, Inc." Robert Kenner and Elise Pearlstein
"The Most Dangerous Man in America: Daniel Ellsberg and the Pentagon Papers" Judith Ehrlich and Rick Goldsmith
"Which Way Home" Rebecca Cammisa
Documentary (Short Subject)
"China's Unnatural Disaster: The Tears of Sichuan Province" Jon Alpert and Matthew O'Neill
"The Last Campaign of Governor Booth Gardner" Daniel Junge and Henry Ansbacher
"The Last Truck: Closing of a GM Plant" Steven Bognar and Julia Reichert
"Music by Prudence" Roger Ross Williams and Elinor Burkett
"Rabbit à la Berlin" Bartek Konopka and Anna Wydra
Film Editing
"Avatar" Stephen Rivkin, John Refoua and James Cameron
"District 9" Julian Clarke
"The Hurt Locker" Bob Murawski and Chris Innis
"Inglourious Basterds" Sally Menke
"Precious: Based on the Novel 'Push' by Sapphire" Joe Klotz
Foreign Language Film
"Ajami" Israel
"The Milk of Sorrow (La Teta Asustada)" Peru
"A Prophet (Un Prophète)" France
"The Secret in Their Eyes (El Secreto de Sus Ojos)" Argentina
"The White Ribbon (Das Weisse Band)" Germany
Makeup
"Il Divo" Aldo Signoretti and Vittorio Sodano
"Star Trek" Barney Burman, Mindy Hall and Joel Harlow
"The Young Victoria" Jon Henry Gordon and Jenny Shircore
Music (Original Score)
"Avatar" James Horner
"Fantastic Mr. Fox" Alexandre Desplat
"The Hurt Locker" Marco Beltrami and Buck Sanders
"Sherlock Holmes" Hans Zimmer
"Up" Michael Giacchino
Music (Original Song)
"Almost There" from "The Princess and the Frog" Music and Lyric by Randy Newman
"Down in New Orleans" from "The Princess and the Frog" Music and Lyric by Randy Newman
"Loin de Paname" from "Paris 36" Music by Reinhardt Wagner Lyric by Frank Thomas
"Take It All" from "Nine" Music and Lyric by Maury Yeston
"The Weary Kind (Theme from Crazy Heart)" from "Crazy Heart" Music and Lyric by Ryan Bingham and T Bone Burnett
Best Picture
"Avatar" James Cameron and Jon Landau, Producers
"The Blind Side" Gil Netter, Andrew A. Kosove and Broderick Johnson, Producers
"District 9" Peter Jackson and Carolynne Cunningham, Producers
"An Education" Finola Dwyer and Amanda Posey, Producers
"The Hurt Locker" Kathryn Bigelow, Mark Boal, Nicolas Chartier and Greg Shapiro, Producers
"Inglourious Basterds" Lawrence Bender, Producer
"Precious: Based on the Novel 'Push' by Sapphire" Lee Daniels, Sarah Siegel-Magness and Gary Magness, Producers
"A Serious Man" Joel Coen and Ethan Coen, Producers
"Up" Jonas Rivera, Producer
"Up in the Air" Daniel Dubiecki, Ivan Reitman and Jason Reitman, Producers
Short Film (Animated)
"French Roast" Fabrice O. Joubert
"Granny O'Grimm's Sleeping Beauty" Nicky Phelan and Darragh O'Connell
"The Lady and the Reaper (La Dama y la Muerte)" Javier Recio Gracia
"Logorama" Nicolas Schmerkin
"A Matter of Loaf and Death" Nick Park
Short Film (Live Action)
"The Door" Juanita Wilson and James Flynn
"Instead of Abracadabra" Patrik Eklund and Mathias Fjellström
"Kavi" Gregg Helvey
"Miracle Fish" Luke Doolan and Drew Bailey
"The New Tenants" Joachim Back and Tivi Magnusson
Sound Editing
"Avatar" Christopher Boyes and Gwendolyn Yates Whittle
"The Hurt Locker" Paul N.J. Ottosson
"Inglourious Basterds" Wylie Stateman
"Star Trek" Mark Stoeckinger and Alan Rankin
"Up" Michael Silvers and Tom Myers
Sound Mixing
"Avatar" Christopher Boyes, Gary Summers, Andy Nelson and Tony Johnson
"The Hurt Locker" Paul N.J. Ottosson and Ray Beckett
"Inglourious Basterds" Michael Minkler, Tony Lamberti and Mark Ulano
"Star Trek" Anna Behlmer, Andy Nelson and Peter J. Devlin
"Transformers: Revenge of the Fallen" Greg P. Russell, Gary Summers and Geoffrey Patterson
Visual Effects
"Avatar" Joe Letteri, Stephen Rosenbaum, Richard Baneham and Andrew R. Jones
"District 9" Dan Kaufman, Peter Muyzers, Robert Habros and Matt Aitken
"Star Trek" Roger Guyett, Russell Earl, Paul Kavanagh and Burt Dalton
Writing (Adapted Screenplay)
"District 9" Written by Neill Blomkamp and Terri Tatchell
"An Education" Screenplay by Nick Hornby
"In the Loop" Screenplay by Jesse Armstrong, Simon Blackwell, Armando Iannucci, Tony Roche
"Precious: Based on the Novel 'Push' by Sapphire" Screenplay by Geoffrey Fletcher
"Up in the Air" Screenplay by Jason Reitman and Sheldon Turner
Writing (Original Screenplay)
"The Hurt Locker" Written by Mark Boal
"Inglourious Basterds" Written by Quentin Tarantino
"The Messenger" Written by Alessandro Camon & Oren Moverman
"A Serious Man" Written by Joel Coen & Ethan Coen
"Up" Screenplay by Bob Peterson, Pete Docter, Story by Pete Docter, Bob Peterson, Tom McCarthy
Det som inte mördar härdar o Diesel stupid
Vill ha en off-knapp för alla känslor. Känner mig tom och sårad av "Hängpatte" musans nya inhemska smek?namn på herr P. Kärt barn har ju många... Namn alltså. Den kallaste helgen nånsin mellan oss. Plussidan? Att vi åt vegetariskt på en kinesiskt nyöppnad liten restaurang "Yang tze" igår. Anspråklöst. Biodynamiskt. Andra gången jag dricker jasminte till maten. Restaurangen ägs av en mamma med två rara döttrar. De odlar själva bio. Idel omtanke och söta leenden. Kämpade med tårarna. Kontrast till det helvete jag befinner mig i. Fastnat i en istapp.
Vidare till "Chez Monique" för vin chaud. Rörigt, stimmigt och männen stöter ogenerat men herr P är blind och döv för allt inklusive mig. Varför är jag fortfarande fysiskt trogen? Det spelar ju ingen roll längre vår lovesupernova har svepts in i det svarta hålet.
Måste hitta mitt leende. Ännu mera Diesel!
Glädje och skratt till Eder alla!
FAB
Shoppat på Lafayette, Annecy och Mert Alas foton
Karnival i Annecy à la Venedig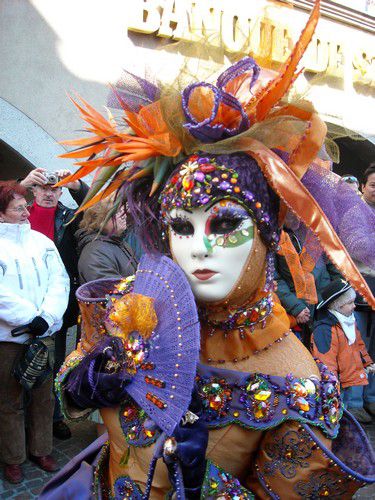 En lugn historia. Defilering längs insjön i sakta mak. Geishor, hovdamer och en och annan kycklng?! skrider förbi. Ingen samba, ingen konfetti. Slow-motion med paus för turisternas ivriga fotograferande.
Städerskan kör ut mig... sen med städningen....
Detaljrikt och färgsprakande om vart annat.
Herr P skadade höger skuldra. Synden straffar... Själv har jag shoppat! Samt nobbat alla dessa framfusiga fransmän som jagar hejvilt på stan och när jag susar genom avdelningarna pa Lafayette. Befriande dock bakom mina vintage RayBan Wayfarer storlek big.. Vår i luften!
Sol pa Er!
Sarkozy's adress, Tim Burton o Valentin
Tim Burton ställer ut MoMA, New York
Adresse du Président de la République
Il est toujours possible d'écrire au Président de la République par voie postale en franchise postale (non timbré), à l'adresse suivante :
Monsieur le Président de la République
Palais de l'Elysée
55, rue du faubourg Saint-Honoré
75008 Paris
Kanske är jag patetisk men jobbar på ett långt brev till franska immigrationsverket efter att ha fått det skriftliga avslaget på min ansökan, drygt två månader efter det ödesdigra mötet, om dubbel nationalitet. Patetiskt? För att jag även kommer att sända det till president Sarkosy. Jag lär knappast vara den första att ha blivit utsatt för denna oprofessionella "préfet" vid tribunalen i Annecy.
Lite skumt med Ganesha i akvariumet på Tibetian Café, utanför Evian.
Lite sol idag. Kanske snön äntligen töar bort. Musan fick uppsöka läkare i helgen pga början till kallbrand! i tår och fötter. Våta strumpor i för kalla UGGs och herr P's eviga vägran att höja temperaturen till bebolig nivå utan att vi vandrar omring som Michelingubbar har sitt pris. Själv har jag upp till femdubbla strumplager inomhus! Musan mår dock bättre men har tre olika medikament att ta för att hålla i gång blodcirkulationen och ta bort värk.
Modellen Natalia's design för Etam. Inte illa.
Mer av Tim Burton.
Såg "Sherloch Holmes". Lite svårt att avgöra om Downey Jr var värd sin Golden Globe när han är dubbad till franska...
Min Valentin var ingen höjdare. Kall promenad i Evian. Sur gubbe. Väl hemma:
Great Valentine... Sarkastiska jag.
What did I do wrong? Herr P.
What did U do?
Why should I do anything?
Why did we do things the other years?
Silence.
Which restaurant do you choose? Herr P.
Something Asian? Jag med fejkad neutral ton.
På restaurangen börjar herr P berätta från vilka världsdelar kvinnorna han legat med kommer ifrån, tar för första gången upp att han även varit på spa med "bitchen" etc. Happy Valentine! Därefter upplyser han mig om att jag numera är likställd alla tidigare kvinnor i hans liv och att han inte kommer ta hänsyn till mig och mina behov. Great. I bilen får jag sedan höra att han inte tidigare torts tilltala mig på detta sätt eftersom han trott jag genast skulle l¨mna honom men att han numera vet att jag INTE kommer att göra det. Hänger ni med? Personligen börjar det spåra ur totalt numera.
Ska kämpa för att ta in:
"NO MAN IS WORTH YOUR TEARS
AND
THE ONE WHO IS WON'T MAKE YOU CRY"
Samt:
"If i let you have me you damn better worship me."
Gaby i Desperate Housewife's kloka ord som jag zappade in på häromdagen.
Gillar Diesels "stupid"-reklam.
Ton av kramar/FAB
FYI
Beyonce's nya parfym och Kate Moss...
Mera Moss...
För mycket jungfru för att ro i land att gå med löpande maskor... Musan klär i det dock.
Kram
Jesus...
Jesus Luz Madonna's ex?
Inte helt fel...
även om jag kapat lockarna.
Snön faller och musan och jag har just avnjutit sushi samt mmm... wasabi, gingembre och sake glass.
Superdeluxe!
Lek livet!
Nightmares...
Har en Freddy Krueger-festival. Innovativt och tjejpower. Mina kollegor på filmvetenskapen måste vrida sig i plågor men jag tycker de är rätt kul, att distansera mig med.
Coola svanar jag bara sett i Lyon.
Min kamrat i alla väder och musans sängvärmare i Strasbourg.
Otroligt vackert väder. Njuter i fulla muggar.
Be happy!
Men's underwear II
Boxer eller ej?
Vill män se en man för att köpa,
en kändis
eller
är det ok
med en halvnaken kvinna i stället?
I USA lanseras kallingar med rumplyft för män... Vara eller inte vara?
En modell som säljer... Läckert, sexigt, exploration???
It's a men's world...
Beckham och Rinaldo.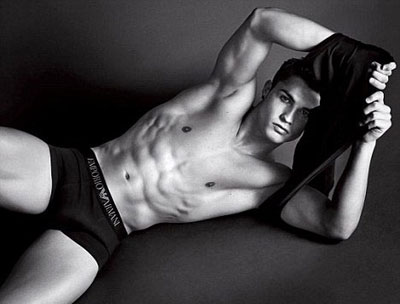 Megan Fox for Armani.
Nu till något helt annat.
Maintenace. Är något som män överlag är usla på. Jag köper herr P's favoritkaka med myrtille aka blåbär och mandelmassa samt vit choklad cocos och mörk chokladklubba att smälta med sojamjölk till varm choklad när jag och musan är i stan. Han köper svenskt knäckebröd (mina Finn Crisp med kummin är slut och säljs ej i la France) till mig... Dessutom från Wasa som sägs finansiera och sympatisera med sverigedemokraterna. Vilket naturligtvis virrige herr P inte minns. "Är det det här som kallas kärlek vill jag inte vara med" som Lasse Holm och Monica Törnell sjöng en gång.
Musan är proffs på omtanke. Häromdagen när jag hade en dipp pga det fortsatta ekot på linjen, herr P's kyla och girighet emotionellt och ekonomiskt, Haiti... Alla dessa vilsna underbara människor jag i mitt jobb försöker stärka, guida coacha efter bästa förmåga utmanar mig att ALDRIG stagnera, men ibland hemfaller jag till allmänt ynk vad gäller världens orättvisor mm mm vad gjorde musan? Jo, köpte en lång grå tjock stickad halsduk åt mig, att gosa in mig i. Hur hade jag överlevt i Frankrike utan henne och Shibbys telefonsamtal? Länge leve kids! Jag var en usel tonårsmamma utan tålamod och överängslig men den relation jag har till dem idag är obetalbar.
Hanson-Roberts är den av mina ca 100 tarotlekar jag använder i jobbet. Den är mjuk och har ett lätt flöde Crowley m fl är för mörka för mig. "The secret" dvs filmen har jag svårt att ta in. boken var en liten prla eftersom den slog samman och förenklade så mycket för gemene man. Kör man fast är "The Key" av Joe Vitale ett bra instrument, en handbok  framåt. Så var inte rädd.
Själv jobbar jag med att ta in. "I'm completely satisfied, I just want more." För mig är livet inre utveckling.
Klokt:
To make all your friends feel that there is something in them.
To look at the sunny side of everything and make your optimism come true.
To think of only the best, to work only for the best and to expect only the best.
To be just as enthusiastic about the success of others as you are about your own.
To forget the mistakes of the past and press on to the greater achievements of the future.
To give so much time of improvement of yourself that you have no time to criticize others.
To be too large for worry, too noble for anger, too strong for fear and too happy to permit the presence of trouble.
To live in the faith that the whole world is on your side so long as you are true to the best that is in you.
ur "The Optimist Creed" by Christian D Larson in "Your forces and how to use them" skriven 1912. The Optimist International, en organisation som fokuserar på en positiv förändring i världen.
Ska lämna turistkontoret för solsken lockar. Tyck till!
Kram
Professeur Jaeger, chirurgien des genoux les plus chers du mond
Ovan fritt översatt. "Professor Jaeger, världens dyraste knäns kirurg"
AFP - Le professeur Jean-Henri Jaeger, auquel Franck Ribéry a demandé son aide pour soigner une tendinite du genou gauche, est l'un des plus grands spécialistes français, voire européens, des membres inférieurs, qui a vu défiler devant lui les "genoux les plus chers du monde".
De Raymond Kopa à Zinédine Zidane, en passant par Pierre-Alain Frau, Ludovic Giuly, Marius Trésor, Carlos Bianchi, Dragan Stojkovic, Emmanuel Petit, Patrick Vieira, Benoît Pedretti, Bixente Lizarazu, Karl-Heinz Forster, Shabani Nonda, Robert Pirès... La patientèle de ce médecin traverse l'histoire du foot. Et si elle était en photo, elle ferait le bonheur de bien des collectionneurs.
Dans son bureau au deuxième étage du centre d'orthopédie à Illkirch-Graffenstaden, dans la banlieue de Strasbourg, il n'y a que quelques traces du passage des artistes du ballon rond. Un poster de l'équipe de France de 1982, quelques photos par-ci par-là et une dédicace de Bruno Bellone: "Grâce auquel beaucoup de joueurs peuvent encore courrir (sic)".
Rien, pourtant, ne prédestinait le jeune Jaeger à connaître le statut envié de chirurgien attitré des footballeurs. Pas d'atavisme. Son père était ingénieur à la SNCF à Thionville (Moselle) et sa mère travaillait chez un notaire. Pas non plus de passion pour le ballon rond: il préférait le handball, qu'il a pratiqué à haut-niveau.
Mais la vocation de médecin lui est venu tôt: "J'avais six ans. On jouait au foot à la récréation. J'ai pris un coup de pied dans le ventre d'un gamin qui avait une case en moins. Je rentre à la maison mais je ne dis rien. Seulement mon état s'aggrave. On me conduit à l'hôpital. Le médecin suspecte une perforation intestinale d'origine typhoïde".
"C'est en ouvrant qu'il verra que la perforation est traumatique. Il m'a sauvé la vie. Je suis resté quatre, cinq semaines à l'hôpital. Il y avait des personnes qui venaient me voir matin, midi et soir. Le personnel était si gentil. J'ai décidé d'être médecin. Ma voie était tracée", ajoute le professeur qui a longtemps visé la chirurgie cardio-vasculaire ou viscérale.
Le hasard d'un stage pendant son internat va l'amener vers la médecine orthopédique. Et c'est ce même hasard, alors qu'il est jeune chef de clinique, qui va mettre sur sa route, à la fin des années 1970 début des années 1980, Jacky Novy puis Marius Trésor.
"Novy souffrait d'une cuisse. Il est arrivé et a dit: +Il parait que vous êtes le spécialiste+ J'y suis allé au culot. J'ai ouvert la cuisse. Quatre mois après il a rejoué et dit à la presse que je l'avais sauvé. Marius m'avait lui expliqué être traité pour un cancer. En fait c'était une pubalgie. Quand il a marqué contre l'Allemagne en 1982, j'ai pleuré", se souvient le Pr. Jaeger.
"J'ai pris l'étiquette de médecin du foot", sourit celui que beaucoup de joueurs ont seulement consulté. "Lors d'un match avec l'équipe de France, j'ai vu Michel Platini. Il souffrait d'une grosse pubalgie. Je lui ai dit que s'il voulait jouer, il n'avait d'autre choix que l'intervention. Quinze jours plus tard, il arrêtait sa carrière. Il était pourtant encore jeune".
A 65 ans, Jean-Henri Jaeger montre ses mains parfaitement fermes. Il se donne encore deux ans pour diagnostiquer et opérer si nécessaire. Dans deux semaines, Ribéry saura s'il est le prochain célèbre patient à lui montrer l'intérieur de son genou. Et comme depuis ses débuts, le chirurgien avoue, lui, qu'il dormira mal la veille. "Avec un pro, on sent la pression", dit-il.
Full Name: Eric Skora
Nickname: The King,... "Le God"!
Squad No: 19
Position: Midfield
Date of Birth: 20/08/81,
Birth Place: Metz, France
Height: 5ft 10ins
Former Clubs: Preston NE (& Killie on loan)
Signed for Killie: April 2007
Contract Ends: May 2009
AS ERIC Skora took his place in the line-up for Kilmarnock's official team photograph, he didn't have to be encouraged to smile. The Frenchman, who once thought his football career was over, credits the club and their fans with saving him from despair.

"It's been horrendous; even to your worst enemy you wouldn't wish this to happen. I was out of football for nearly two years and I couldn't see any end to the tunnel. I thought I'd never come back, but now I just want a fresh start and to leave all those bad memories behind me," the 25-year-old striker said.

It's now almost three years since a tackle wrecked Skora's knee not long after he had returned to Preston after a successful loan period with the Ayrshire club. Three operations failed to repair the damage to his cruciate ligament.

At the start of this year Preston gave up on him, tearing up the remaining six months on his contract. It was Jim Jefferies who stepped in to offer him a final chance to save his career, with training facilities, rehabilitation and, ultimately, a contract.

"For sure, there were many clubs who would not have taken a gamble on me. Six or eight months ago they were all saying he is a good player but will he ever come back from where he is and play football again?'" the former AS Nancy man said. "Kilmarnock never had any doubts. The gaffer always said to me it was only a matter of time to get back playing and that was a big factor, a big help in me coming back. Honestly, after the reception I got last weekend when I came on against Nottingham Forest I do feel I owe so much to this club, the fans and the manager. I just want to be as good as I can be for Kilmarnock."

There is someone else Skora feels he owes - his surgeon, Professor Jean-Henri Jaeger, the Strasbourg-based specialist responsible for similar work on Zinedine Zidane and Robert Pires.

"I'd seen quite a lot of specialists and they were all negative about my future. Then I went to see Jaeger and he told me there was nothing to worry about. He said he would re-do my cruciate operation and I'd be back playing in a year. That was the first time I really saw a future in football again. It was like he was giving me a new contract. I cannot really describe that moment, but it was the last thing I was expecting to hear."
Professor Jaeger är den trollkarl som förhoppningsvis fixat musans knä. Ta i trä. Ingen i Sverige tordes, åtminstone ej på UMAS, i Malmö. Fem års lidande är förhoppningsvis över!
Musans happy toes efter operationen...
HD och Chantal Thomass
Jag tordes ju inte ta bild på några riders i fredags kväll men här åtminstone en HD i ett skrädderi anno  dazumal samt en söt katt från Barcelona.
Madame Chantal Thomass, född 1947. Vars lingerie jag avgudar.
Små juveler. Real Art!
Strax dags för hemfärd till Thonon-les-Bains vid Lac Leman/Gènevesjön.