Under my skin
These photos are really creepy
and still fascinating -
past skindeep.
Photographer Lucia Giacani. 
Model Kristina Sheiter.
Editorial "Under My Skin".
In Vogue Italia September 2013.
Which movie?
Anyone?
From which movie is this pic?
Miss muse
Checking my muse's instagram
this is what I found today.
Anaïs has returned to her studies in OC, Cali, US.
Miss her...
My birthday is this coming Monday.
Noone to celebrate together with.
That's life...
The phone is on track, though
so I'm back in business.
What a relief!
Fashionable in September 2013 II
A bit too Faye Dunaway
look-alike
for my liking
prefer the original.
Do like the outfit above though.
The Edit
The Edit by Craig McDean.
The new school uniform by Anna dello Russo
Anna dello Rosso
flew to Hogwarth for Harry Potter inspiration
"The new school uniform" is her editorial
for Vogue Japan September 2013.
Photographer Giampaolo Sgura.
Pain & Gain - No pain no gain
Another day without a regular phone
so H suggested an avantpremière 
"Pain & Gain"
with among others Mark Wahlberg.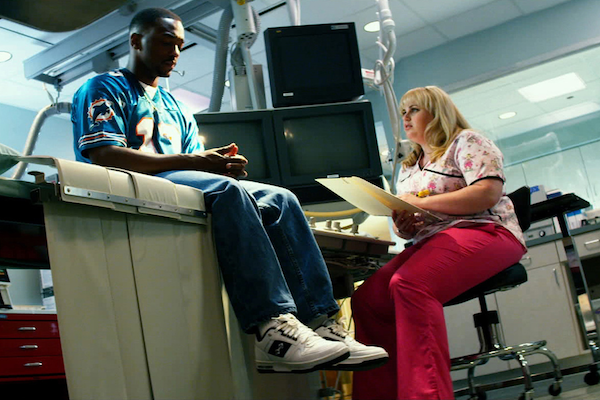 Back from the movie.
Wow what a story!
Great wag to kill nearly two hours
superbly filmed
flawless script
masterly played.
See it
never a dull moment.
Based on a true story.
Fashionable September editorials 2013
The Conjuring
The actual Lorraine Warren
with the actress, Vera Farmiga
(Leo, August 6, 1973)
portraying her.
H surprised me
by taking me to see
The Conjuring at the movies yesterday
to distract me from not being able to work.
Still no phone connection... 
An ok movie
if it wasn't for the teenagers in the cinema
talking, playing with their cellulars and putting their feet up the seats in front of them even when people were seated there.
Damn annoying!
Tuesday is Orange day
(the phone company 
that messed up our regular line)
the movie tickets cost 6 € and you may bring a friend for free...
if you have an Orange subscription.
Afterwards we went to the resto nearby.
And had a chèvre chaud sallad. 
Dark angel
Photographers 
Sofia Sanchez & Mauro Mongiello 
editorial "L'Ange noir"
for
Numéro #146 September 2013.

Gives me a Nosferatu 1922
nostalgy feeling. 
Miranda Kerr som Cicciolina
Model Miranda Kerr as a less curvy Cicciolina
flashed by photographer Sebastian Faena 
for V Magazine Fall 2013.
Asia Argento
Italian actress Asia Argento 
captured by
photographer Francesco Carrozzini 
for Vogue Italia September 2013.
Fashion for fall 2013
Fashion warriors for fall 2013.
Karl Lagerfeld - Numéro 146, September 2013
Karl Lagerfeld behind the camera.
 Burning man images.
Rita Ora - Material Girl
Rita Ora for "Material Girl"
in London.
Fierce
W Magazine September 2013.
Photographer Mario Sorrenti.
"Let's Twist Again" editorial starring 
model Malgosia Bela.
Red hot!
Photographer Roberto D'este.

Model Tereza Bouchalova 
in this editorial for 
Grazia Italia August 14, 2013.

  Model Candice Swanepoel in red/white editorial for Vogue Mexico September 2013.
Photographer Mariano Vivanco.
 Red is hot!
Doesn't matter if you 
mix it with black or white.
Wild thing
Model Marloes Horst.

Editorial "Wild Thing" for L'Officiel Netherlands September 2013.
Photographed by Mason Poole.
Not worth it!
I'm getting there
striding my imaginary HD
riding into an unknown future.
Autumn fashion edit. 2013
Retro travelling fashion
I love travelling by train
and the mauve nuances
in this retro editorial.
Vogue Ukraine September 2013.
Model: Guinevere Van Seenus.
Photographer Cuneyt Akeroglu.
Bird commandants
Guess it's showing how BORED
I am.
Loads of birds on the lawn
in the mornings
until Mussolini and his gang
start to hammer and slammer
doing Flashing Tit's swimming pool.
I need to work
a forced "vacation"
is plain torture.
Especially when I am totally innocent 
and it's due to pure
egotism and nonchalance.
Starve mode
Next book I'll buy.
Starve mode by Leslie Peele.
Tough love:
"YOU are solely responsible for the condition your body is in now."
Mary Katrantzou mixed
Mary Katrantzou colorful and daring.
CHARLOTTE OLYMPIA - Fashionably Late Patent Leather Loafer
Charlotte Olympia
Fashionably Late Patent
Leather Loafer
Shocking!?
Model Emily DiDonato 
in the September 2013 issue
of Interview Germany 
lensed by
photographer Giampaolo Sgura.
Salome
Salome...
there is someone's head
I'd want on a plate!
First the telephone line
gets cut by a moron
then the secret number
together with
 the attention notice
are erased
by Orange...
An ENORMOUS echo
appears...
As a FINAL straw
the phone account
is terminated
because of a misunderstanding?!
between H & Orange.
H is French
Orange is a French company
and I am in France.
Need I declare
that I work by phone from home!!!!
Weird mood
Full moon in Pisces August 21, 2013
September editorial fashion mixes
Esprit Lingerie Fall 2013
Like this natural casual lingerie
from Esprit.
Dali inspired editorial in Elle Spain
Model Eugenia Volodina 
in Elle Spain September 2013.
Victoria Secret's Doutzen Kroes covers Vogue Spain
Model Doutzen Kroes
shot by photographer Tom Munro.
Vogue Spain September 2013.
Agent Provocateur Lingerie autumn 2013
Some of my favorites from
Agent Provocateur's new lingerie collection
L'Agent.
The 46 piece collection is designed by Penélope Cruz and Monica Cruz.
Victoria Beckham covers Vogue Australia September 2013
Victoria Posh Beckham
in editorial Victoria's secret
shot by photographer Boo George
for Vogue Australia September 2013.
Million dollar lady knock-out
KO pics by Will Davidson for Vogue Australia
September 2013.
Model Maria Bradley.
Oh Land
Blue haired Danish Oh Land
in Vogue Australia September 2013.
Fatale
Femme fatale?
Photographer Signe Vilstrup.
Model Leeny Ivanisvili.

Marie Claire France September 2013.
Life begins
Daft Punk - L'uomo Vogue
Photographer: Pierpaolo Ferrari.
"The soul of the machines" editorial.
Louis Vuitton x Michelle Williams
Actress Michelle Williams
for Louis Vuitton fall 2013.
Photographer Peter Lindbergh.
Jump off the cliff
 Ray Bradbury quote.
Hermès - Pétanque
Tiroupointe.
Christian Louboutin 2013
Below the summer campaign 2013.
Christian Loboutin
class.
Max Mara's new face Jennifer Garner
Below Max Mara fall 2013.
Tattoed in colour
Beautiful
Some things look beautiful shredded.
Live life with love
Live life with love.
Nobody worries...
Poor John Cusack...
Lonely people need...
 People I don't know
smile to me.
I wish I could send
love
to the lonely people out there.
Awesome
It's just one of these days
that guys whistles and flirts
wherever I thread.
No bullshit!
Some awesome bodies out there :)
Must be "the brownie effect".
The brownies taste DELICIOUS!
Bullshit
Under my umbrella
A sign
Grudge
Chicks rule
Now do they?
Style versus fashion
La Notte - 10 Men Magazine
Models Nastya Kusakina & Marine Deleeuw.
Captured by Benjamin Lennox 
10 Men Magazine. 
Art in fashion
Photographer Jacob Sadrak 
for the September 2013
issue of Marie Claire France.
Model Jessica Clarke 
in the editorial named "Arty".
Brownies with pecan
How I wish you all could smell it!!!
Yummy, yummieee!
Finally a RAINY day to enjoy.
Looking forward to autumn.
Chestnuts are on their way.
Used this mix for the brownies.
This minute they are cooling in the fridge.
Sadly the baking ingredients in France
like farine, butter, sugar...
don't taste at all as in Sweden
so usually it's a disappointment
to make pastries and pies here.
I still spin the mixes a bit
my way, though ;).
Fringe before the TV-serie started
The TV-serie Fringe 
ended after five seasons.
The first book of a triology
Fringe - The Zodiac Paradox,
focuses on a young Walter Bishop.
The author Christa Faust takes you
to San Fransisco where Bishop and his friend William Bell join up with Nina Sharp and
spices it with a Zodiac killer
Easily read and light entertainment
for a summer afternoon or two.
Subsequent novels are The Burning Man (July 2013) and Sins of the Father (October 2013), telling the early stories of Olivia Dunham and Peter Bishop respectively.
Full service - Scotty Bowers
Gossips about the secret sex life of the
Hollywood stars back in the fifties.
Scotty comes out as a trickster with a heart
though as I'm not a swallower
I can't help wondering
why some kinky pooh flavored bits
had to be included.
Of course hyped stars got bored
and getting full service by Mr Bowers
(always willing to oblige)
eased their urges.
September editorial mix
September issues usually Christmas
for anyone into fashion editorials
ENJOY September 2013's mix!
Boy meets world - Arthur Elgort
Elle US September 2013.
Arthur Elgort photographed.
Daft Punk - Digital love
Photographer Mathieu Cé 
editorial "Digital Love"
with Daft Punk and Milla Jovovich
in CR Fashion Book.
Sensual twist by Sorrenti in W magazine September 2013
W Magazine September 2013. 
Photographer Mario Sorrenti.
"Let's Twist Again" editorial with model Malgosia Bela.
Herpes
This morning
H abruptly left the breakfast table
saying he doesn't like
my grown up kids "smell".
A daily shower
is usually out of the question
the few times they have been visiting,
due to H "caring" about the environment
we are "spied on" not to waste too much water
among other things...
H "cleans" himself in the Lac
to save water
and he pees outside
not to use water to flush the toilet...
The thing is
as H doesn't dry his...
there's always a stench of urine
for a sensitive nose like mine
to detect
 surrounding him.
 H doesn't clean his hands
afterwards either
- disgusting!
The Lac
is definitely not clear.
So there's always a stale odor
streaming from his body.
 H seems ignorant
to his own smell.
Try to imagine
the winter period
when H drinks his morning urine as well...
You can't?
Let me enlighten you.
It's more or less like
a breeze bringing a dry rottening corpse
under your nostrils to sniff.
Nowadays H finds it
unnatural...
with perfume
and detest my love of fragrance.
I guess he prefers
warty toads
+
sweat stinking & hairy legged
French bitches instead.
As that's SO natural.
Oh, by the way
H's herpes labialis
is in full bloom.
 Lost your appetite, anyone?
Elysium
Cyborg (cy-Bourne :))
Matt Damon
as the hero
in sentimental predictable Elysium.
The movie didn't improve 
by someone close farting...
Thank God I had some
Thierry Mugler "Alien"
in my handbag!!!
Jodie Foster as a cold
French named bitch
made me think about
the workaholic sister
at H's job.
What a relief
not having to face
such an egotistical cow daily.
The movie was seemingly filmed
with a handheld camera
so it has a nausea warning.
Foster made a weird
unexplainable
outfit change
from white to metallic to white again...
The worst thing
about Elysium
was the music score
when Damon was heroic or "romantic"
accompanied by a choir...
Grunge in Vogue Paris September 2013
Grungy September issue for Vogue Paris 2013. Models snapped by Mert & Marcus. 
Andree Diaconu, Gisele Bündchen, Karen Elson, Sam Rollinson, Saskia De Brauw, Sky Ferreira, Suvi Koponen and Vivien Solari are infront of the lens.
Styled by Emmanuelle Alt, Joe McKenna and Katy England.
La Fièvre Grunge Part I & ii editorial.
Ireland Baldwin Elle US September 2013
Photographer Thomas Whiteside.
Ireland, daughter of Alec Baldwin
(Aries, April 3 ,1958)
& Kim Basinger
(Sagittarius, Dec. 8, 1953).
Lady Gaga naked in V Magazine
 Lady Gaga is lensed
for V magazine Fall 2013
by Inez & Vinoodh.
Wild thing
Gloves ARISTIDE "KISS"
Model Tian Yi for Elle September 2013.
Photographer Tsema Yeste.
Smileys
More than words?
smileys emoji app for iPhone.
Hearts
 Emoji app for iphone
Black power
Model Jeneil Williams
shot by Julia Noni 
for Vogue Germany September 2013. 
Street tuff
I-D magazine.
Tattoed model, street tuff Catherine McNeil.
Photographer Collier Schorr.
Fall 2013.
White fashion
Wallpaper Magazine.
Model Saskia De Brauw.
 Paolo Roversi photographer.
Snow angel
Snow angel editorial.
Model Soo Joo frozen in time
by  photographer Miguel Reveriego
 for Harper's Bazaar US September 2013.
Doutzen Kroes pure icon
Vogue Netherlands September 2013
with model Doutzen Kroes
Photographer: Paul Bellaart.
Adore the ease and beauty of nature
Assumption day August 15, 2013
Blessed Virgin Mary's
assumption to heaven.
National holiday in France
and the end of summer...
Worry
Worst mistake
Jennifer Lawrence covers Vogue US September 2013
Actress Jennifer Lawrence 
on the cover of Vogue US September 2013
captured by b Mario Testino.
Shark bitten Raf Simons
Designer (Dior Haute Couture) Raf Simons
caught by
photographer Skye Parrott 
nearly shark bitten by artist Robert Longo
for 
Harper's Bazaar US September 2013.
Duality fashion editorial
Duality a fashion editorial in Vogue China's September 2013 issue starring Liu Wen, Doutzen Kroes, Sasha Pivovarova, Fei Fei Sun, Sui He, Xiao Wen Ju, Kati Nescher and Daria Strokous. 
Shot by Inez & Vindooh.
Cover me
Joan Smalls captured by Patrick Demarchelier
for Vogue US September 2013.
Commitment
Animal printed
Model Valerie van der Graaf shot by Squiz Hamilton for Vision Magazine.
Eyes wide shut editorial
Models Pauline Moulettes, Richard Deiss, Jules Sweedy Raynal DS & George Paul for Prestige International Magazine's Summer 2013 issue.
Captured by photographer  Nicolas Guerin.

Kubrick's movie Eyes wide shut from 1999. 
Cities like cats... editorial
Model Sam Rollinson lensed by Daniel Sannwald for i-D magazine's pre-fall 2013.

Cities like cats reveal themselves at night
editorial.
Miley Cyrus shot by Terry Richardson
Photographer Terry Richardson
caught  Miley Cyrus
for Harper's Bazaar US 
September issue 2013.
Tiger sniff
Howdy Tiger.
Damn can't make this gif function!
The beauty of my muse's face
Sweet muse and daughter of mine.
Miss u.
Chris Heads
Photographer Chris Heads
distinct & humoristic.
Pay a visit to
chrisheads.com
for more.
Fickle finger of fate
Just love Shirley MacLaine
(Taurus born April 24, 1934)
and her:
"Fickle finger of fate"
in Sweet Charity!
Antonio Banderas 53 - August 10, 2013
 Actor Antonio Banderas
good looks
(Desperado, the voice to "Puss in Boots"...)
Leo born August 10, 1960.
Well, you can't stay forever young.
Banderas long time wife
actress Melanie Griffith
great body
in Body double
today?
Griffith has gone through tough times
rehab's
due to different addictions.
(Even wealthy actors
despite all their money
are only human
and age.
No expertise and no coaches
nor plastic surgery
can change that.
Time take its toll.)
(Body double, Working girl...)
Leo born August 9, 1957
turned 56 years old today.
Banderas and Griffith met in 1995
while acting in the movie Two much.
They still seem very happy together
and do tremendous work
for charity.
Banderas in his next movie
Machete kills
which opens Oct. 4.
Anta Banderas
red vine.
Nude skin tan paradise by Dior
Nude skin tan paradise by Dior. 
Eric Bouvet photographer
Burning Man, Nevada desert.
Photographer Eric Bouvet
himself.
Punk Yossi
Punky editorial in L'Officiel Brazil August 2013 with model Yossi Michaeli, who is captured by Mariana Coldebella.
Hot Cruise
Model Zorana Adzic in editorial "Hot Cruise" shot by Wasan Puengprasert  for Numéro Thailand August 2013.
Andrew Akimov photographer
Dreamy photographer Andrew Akimov.
Stella McCartney's Fall/Winter 2013 lingerie campaign
Marloes Horst models
the campaign for Stella McCartney
A/W 2013/14 lingerie campaign.
Karl Lagerfeld captures in Harper's Bazaar September issue 2013
Photographer Karl Lagerfeld lenses:
Angel Haze, Candice Huffine, Ashleigh Good, Chiharu Okunugi, Carmen Dell'orefice,
Ondria Hardin, Chrishell Stubbs,
Dakota Fanning, Gabourey Sidibe,
Karen Elson, Kenya Kinski, Lily Donaldson, Liberty Ross, Lily Collins, Liya Kebede,
Linn Arvidsson, Scarlett Johansson,
China Machado, Soo Joo Park,
Tilda Lindstam, Lisa Verberght, Xiao Wen Ju, Erika Ervin and Zoe Kravitz.
All styled against a black background
by Carine Roitfeld 
for  Harper's Bazaar UK September 2013.
Sahara
The beauty of the Sahara desert.
Male body perfection
Nice
some ass and muscular thighs...
Skinny guys aren't my "forte"
on the contrary
they are a real turn off.
Especially if they don't smell good.
David Gandy
(born Feb. 19, 1980)
is sexy in underwear
from Dolce & Gabbana.
Thank God
not wearing too tight Speedo's
the least attractive item for men to wear.
Ban Speedo's and Dominique's!
Pharrell Williams x Cara Delevingne - Born lucky
Music producer Pharrell Williams 
and
model  Cara Delevingne.
Captured by
photographer David Bailey
for Vogue UK September 2013.
Fake somebody
"I always thought it would be better to be a fake somebody than a real nobody."
The Talented Mr. Ripley (1999) – Tom Ripley (Matt Damon)
Dog styled fashion with Lindsey Wixson
 Model Linsey Wixson
dog styled in fashion
for Vogue Brasil August 2013
captured by photographer Jacques Dequeker.
Fashion in September 2012
Heading for September...
Rooney Mara - Downtown anorectic?
Skinny close to anorectic
Rooney Mara
the face for 
new perfume
Down town
by Calvin Klein.
Miranda Kerr "under cover" shot by Alasdair McLennan
Miranda Kerr
for Vogue UK September 2013.
Damned
Dont know about the book.
so very true titel:
Damned if you do
dead if you don't...
Kenzo - F/W 2013
Kenzo's new campaign 
for A/W 2013
by TOILETPAPER
Micol Talso & Pierpaolo Ferrari)
is "pub" at its best.
Inventive surrealistic images that stick!
 Probably inspired
by Delfina Delettrez' bijoux design.
Eye by Delfina Delettrez.
Chanel round vintage bags
Round Chanel bags
kinda vintage.
Sushi day with my muse
(brrr... had to be trashed)
luckily had bought something bubbly....
with some ridiculous lie as usual...
Champagne & strawberries
Thank God for having my muse here
H hasn't said a word
about our 10th anniversary 
getting wed in Vongy.
Just went off on his own 
"for a drink in the harbour"...
Chilled champagne with strawberries
for me and Anaïs
in the heat if the night.
Nope, not anymore.
A tiger...
Next time
That's a PROMISE!
Be in shape ever - Vogue Italia June 2013
Carmen Dell'Orefice - grand old lady,
beautiful still
but PLEASE don't put her make up on
like a masque for the death -
Ionna Dedi, Gintare, Bryn English & Karina Gubanova staying in shape regardless age for Vogue Italia's June 2013.
Photographer Greg Lotus.
The masque of the red death
by Edgar Allen Poe
illustrations
Lobster bag for shopping - Barbara Rihl
Lobster bag
and other shopping bags 
by Barbara Rihl.
Stella McCartney Shadow/light
Stella McCartney's new collection
Shadow/light.
Colorful Mexican Harper's Bazaar August 2013
Mexican indeed!
Desire - despair
Photographers Warren Du Preez and Nick Thornton Jones for Contributor Magazine. 
Daniela Braga
Brazilian model Daniela Braga with seemingly endless legs flashed by Yossi Michaeli for Harper's Bazaar Brasil August 2013 issue. 
Too bad with the cigarette, though.
GUCCI fall 2013
Australian model Abbey Lee Kershaw 
captured by Mert Alas & Marcus Piggott 
in the Gucci campaign for 2013. 
Male model  Adrien Sahores.
Connected in love
Love connection.
Fashionable inspiration
Fashion editorials for inspiration
this upcoming autumn.