Bananas
H caught a severe flu
He borrowed some
Rozana mineral water
late Wednesday night
I gave him some bowls of my veg. soup
Thursday lunch & afternoon
and more bottles of Rozana
Friday he borrowed the phone
to call Lucifer
Saturday I bought him
fairtrade bio bananas
as H told me he still can't eat.
Later he borrowed the phone
to call someone from the rugby board
as he can't concentrate
(he admitted he had eaten
one of the bananas though...
Good boy!)
H gave me some books to read
that he received this week
by Alexandra David-Neel
a most amazing traveller:
"Magic and mystery in Tibet"
&
"Initiations and initiates in Tibet".
Soon I will be into
spiritual practices in Tibet.
Ps. Why do I have to be such a Florence Nightingale?! When I'm sick/ill
I'm left entirely on my own. Ds.
Sankta Lucia 2016
Skriv inläggstext
Varma Luciahäsningar
till Er alla i Sverige!
En lussekatt, kanske?
Recept nedan.
Albertine Café in Publier
Santa with the Flottins arrived in Evian yesterday evening which made it impossible to find a parking spot. H and I landed in Publier at Albertine Café for our usual Friday evening drink.
The place was a nice surprise with live impro. jazz.
Very local.
The plate of cheese was decent with two glasses of okay red Bordeaux.
Well worth another try.
Au Bureau in Evian
As we are veg., H & I, the waiter at "Au bureau" in Evian adviced us to take their dessert dish cheese plate as a treat with the glass of red we choose. Definitely worth it!
Happy Halloween!
My Halloween cake 2016.
Raclette
H prepared a raclette
which looked grandioso
but the day had already
gone astray.
A very shitty day.
An awfully boring evening.
A night to forget.
Grand Marnier crêpes and chocolate
With a very sore throat
and a fever -
it's a sweet treat to be spoilt
with home made organic chocolate
and whole wheat
Grand Marnier crêpes.
Lucky me.
Abondance cheese
Abondance rocks!
Diet: Plant-based nutrition
Being close to vegan
I strongly believe in
Plant-based nutrition.
The way for a healthy diet.
Orgasmic chocolate
Orgasmic chocolate
choc
A promise?
Every time?!
Blueberry pie by Lac Montriond
Blueberry pie...
and a white beer
by Lac Montriond
on a sunny Sunday afternoon.
Easter eggs in chocolate made in France
Easter eggs in chocolate
made in la France!
Health benefits of ginger
I do love ginger!
You are what you eat
Food cravings (with solutions)
Louboutin chocolate
The new male intern at H's office
has a sibling working at Louboutin.
So H surprised me by this little "gift".
Definitely pleasing me.
Thanks again.
Healthy lunch
At least I'm trying!
Brownies with pecan
How I wish you all could smell it!!!
Yummy, yummieee!
Finally a RAINY day to enjoy.
Looking forward to autumn.
Chestnuts are on their way.
Used this mix for the brownies.
This minute they are cooling in the fridge.
Sadly the baking ingredients in France
like farine, butter, sugar...
don't taste at all as in Sweden
so usually it's a disappointment
to make pastries and pies here.
I still spin the mixes a bit
my way, though ;).
White strawberry - Pineberry White Dream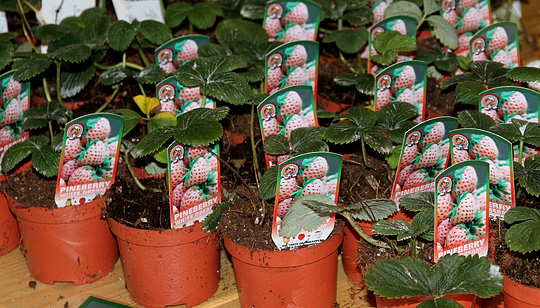 White strawberry/Pineberry White Dream
with a taste of pineapple/ananas.
Citrus caviar - "finger lime"
Citrus caviar aka "finger lime"
citrus australasica